Yoga has many different types, from easy to difficult, that can serve various purposes of practitioners. One of the must-mentioned types is power yoga. 
To practice it properly and gain benefits, you need to know basic information about this type of exercise: what is power yoga? How to proceed power yoga workout? 
You will be surprised because each power class is always different, and the number of poses in the exercises of other types is not the same. So, do not hesitate to scroll down. This article will provide you with in-depth knowledge about it.
What Is Power Yoga?
Definition
As its name implies, this form focuses primarily on building strength and endurance. This is also considered one of the best ways to burn calories in the body.
The term power yoga is not an official type but a form of Vinyasa (Vinyasa has been established since the early years of the 20th century, originating from Asthanga).
When doing this practice, we need to focus on the natural rotation from one posture to another, not on a discrete approach of the postures. Power yoga posture has a seamless connection, far from other exercises.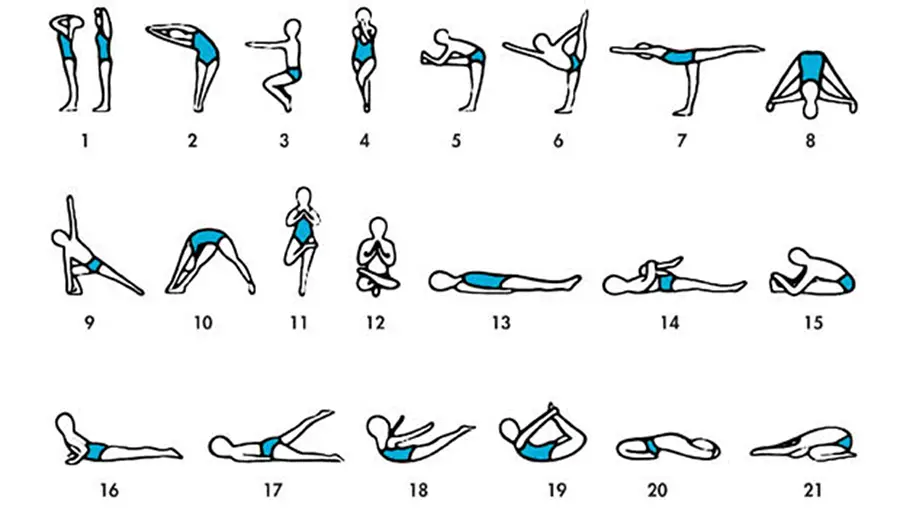 However, it would help if you remembered that this is a high-intensity, continuous-paced form of exercise. Flexible changing positions and linking breathing activities are two mandatory requirements in the training process.
Unlike other classes that focus on relaxation, the power class requires more physical energy. Mindfulness and focus on breathing are also key points to make a difference in this exercise form.
Key Differences Between Power Yoga And Other Types
Since there are differences in training styles and the requirements are stricter than usual, it is easy to spot the main differences.
Today, Hatha is considered the most popular form of practice in the United States, focusing mainly on postures. It will help to stabilize the breathing slowly and intentional control of speed.
For that reason, Hatha, along with other forms, focuses on healing and maintaining peace of mind. Power yoga is aimed at strengthening the organs. With a faster tempo, we will feel pressure in the body. It is yoga for power.
For Ashtanga, followers of this form must practice with the utmost precision and follow the poses' order completely. When you go to practical classes, the order above remains the same no matter who the teacher is.
And of course, unlike the above method, Power yoga does not follow a certain process. The instructors will have their schedule in exercise classes, and you can even make your series if you practice at home.
This is perhaps the biggest difference of power classes compared to other forms of yoga. When we switch to a new movement, we need to focus on the rotation between movements, combined with the exhalation process. Repeating this movement makes us feel rushed in the way of practice.
What Are Power Yoga Benefits And Drawbacks?
Benefits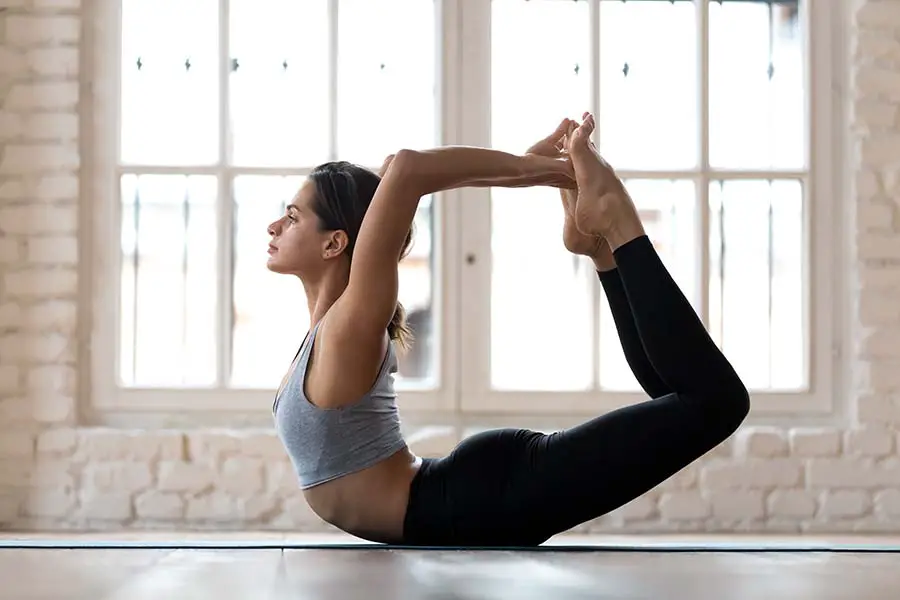 All exercise can bring benefits to our body, and power yoga is no exception. When you exercise it in moderation and reasonable, you can see your physical and mental health improve significantly. Now, we will give you some typical benefits:
The cardiovascular system is an organ that benefits the most through this type of exercise. With such a fast and intense workout, your heart rate will be maintained and increased more than usual.
Oxygen and blood are circulated to the organs much more efficiently when you have a good heart rate. This way, you can also enhance your stamina and endurance. All will lead to an optimal result that your body is extremely healthy.
In addition, there are countless other organ health benefits. It makes your lungs healthier. Blood sugar, high blood pressure, and cholesterol levels are all well controlled. 
Problems with sleep and the brain are also somewhat reduced markedly. You can also reduce the risks of chronic diseases, such as heart failure, stroke, and diabetes.
Although we mentioned the rapid change of postures when practicing power yoga, you will be misunderstood that you cannot stay in one position for some time. Indeed, you can hold a pose for a minute or even longer.
Yet, maintaining a posture for a while is not an easy task. Your muscles are the key to sustaining your workout. As a result, over a long period, muscle strength is enhanced.
As mentioned above, muscles are the organs that optimal benefit when you perform the movements in the exercise. Many studies have shown that yogists have stronger muscles than those who do not practice.
A study once told us that people with Parkinson's disease had better muscle performance within just two weeks of power training.
How does the power yoga weight loss? These exercises are all about burning calories. Doing strict exercises will make you a healthier person, even you can feel how well you have lost weight.
Your body will be perfectly connected through exercise. Your cravings also disappear because you have complete control over your body, and so you lose weight, both safely and effectively.
Nowadays, people have to face a lot of stress in their chaotic lives. So, they want to find a way to free their minds. Fortunately, power yoga can support you. This type of exercise helps stabilize yourself and overcome stress in life. 
It is because it lets stress hormones released. So, relaxation and peace are conveyed to your body to make you calmer.
When it comes to the whole body, we can see the great benefits:
Deeper sleep helps your brain relax and wake up more alert the next morning. 
Organ systems have a positive influence. 
Anxiety and nervous tension are no longer a big deal. 
Create strong muscles for a fit body.
In addition, through training, smokers were almost able to quit this harmful habit.
View more: What Does Namaste Mean In Yoga?
Drawbacks
Surely someone will ask, is this method safe, or does it have any potential dangers. We will say "yes".
Although it is a method to improve health, it is not simple to pursue if you do not have enough knowledge and self-discipline. Speed, physical strength, endurance are the minimum requirements that your body must meet to do it.
Injury is inevitable when you do not master the postures to practice correctly. And overtraining is also a common cause of muscle damage. 
Practice time in classes usually lasts from one hour to ninety minutes. So, you may have a little difficulty if you do not get familiar with practicing for a long time.
The above method may work for you if you have good physical health. If you can't get used to this form, find another form to get used to, and then move on to practicing this high-demand form of health.
Moreover, some people need to consider carefully before doing power yoga and should ask for approval from the doctor, including:
A person with post-operative or musculoskeletal injuries.
A person having issues with blood pressure. 
Women in pregnancy.
How To Take Part In Power Yoga?
When you want to start working out, it would be best to go to a fitness center or a yoga studio. Sign up for introductory classes or classes for beginners. Or you can also ask your friends or colleagues who practice at reputable places.
Usually, you won't find the name "power yoga" in gyms, but there will certainly be Vinyasa classes.
If possible, before enrolling in a class, you should consult your class teacher or center administrator for more in-depth information. In addition, you need to carefully research the expertise of the teacher and the physical quality of the learners.
If you have never practiced it before, we recommend choosing a Hatha class first. This is a class where you can familiarize yourself with the basic poses and rules.
In case you don't want to join any public classes, how about practicing on your own at home? Entirely possible. Nowadays, there are many videos about this subject posted on online platforms. In addition, we can also find exercise guidance applications easily by phone.
However, the mentioned cases above should be noted. They can not experience these exercises on their own. Go to the hospital that has been properly consulted for your health condition.
See more: What Is Goat Yoga?
Final Thoughts
This article helps you equip yourself with basic knowledge about what is power yoga and its benefits. In short, this type of exercise helps a lot for the body, from external health to internal organs. 
Although there are many high demands on the practitioner's strength, it is still an ideal option for many people worldwide. Yet, keep in mind some above notes to avoid undesired injuries. Enjoy your exercise time!