Most people choose yoga pants due to their sporty model cool-wearing, while others prefer leggings because of all-rounded fashion and simple clothes-matching. At first glance, you might think that these two are the same, but it's not true!
So, what's the difference between yoga pants vs leggings? How to choose properly? Come and read this article to obtain more helpful information by a detailed comparison.
What Are Leggings?
Definition
Leggings are pants that entirely hug your leg shape. It provides convenience in casual or fitness moving.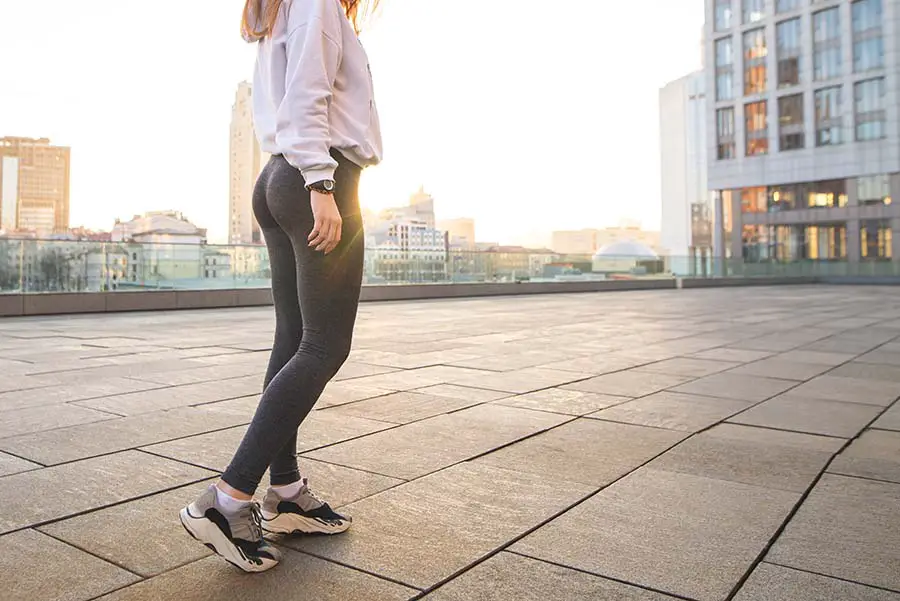 Modern leggings are made from nylon-lycra or nylon-lycra-cotton combinations. Even silk, wool, and other materials create various versions for consumers.
Available in multi-colors with delicate designs, leggings originated for fashion. Common styles are navy, gray, and shades of black.
Since the old intention was to use leggings for warming, now it is everyday clothes. It does a good fit with a wide range of items, such as oversized shirts, hoodies, or even crop tops.
Types Of Legging For Fitness 
Leggings are found in stores with many different models, peculiar patterns, and models. You may have a couple or more in your closet.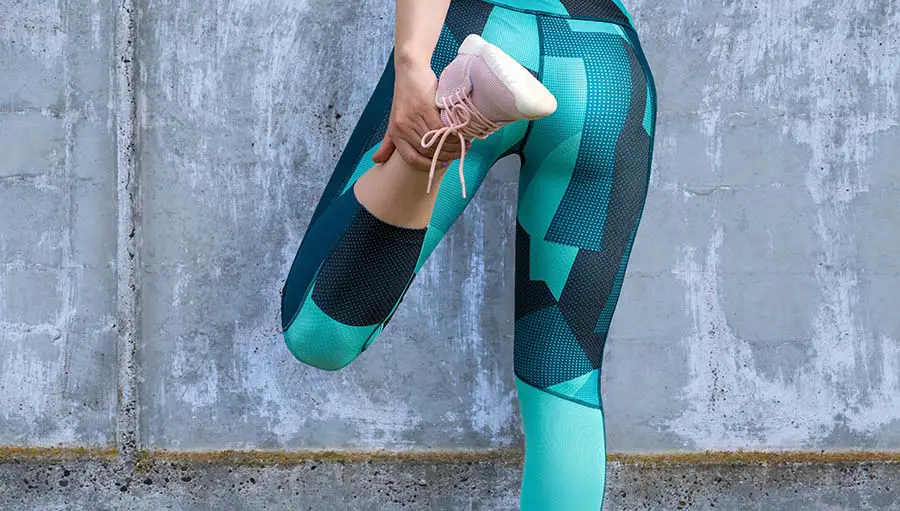 We should consider two factors while shopping for leggings: length and materials. Fitness leggings must be comfortable, cool, and air-flowing material. The garment must have reasonable length, moving convenience, and stable stretching.
Moreover, it's important to check the fabric first. You are fine to go if it's tenacious or sweat draining enough and wide-range stretching.
After that, do a test on your own to see if it is comfortable wearing, not contain any cloth rubbers or gussets. Make sure it's not exposing your body, and your move will indeed be confident.
What Are Yoga Pants?
Definition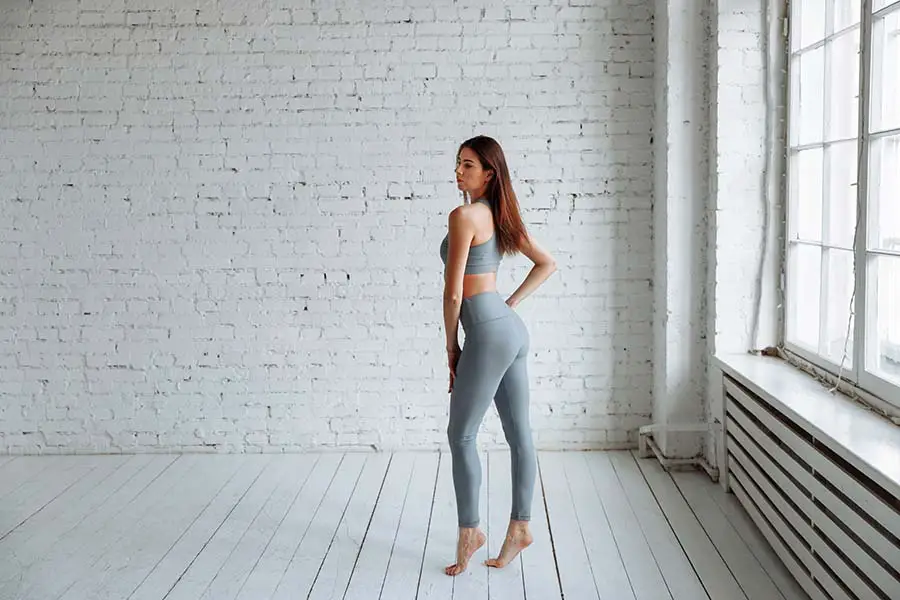 Yoga pants are waist to ankle covering pantyhose-like, designed for yoga exercises, first released and sold in 1988 by Luluemon.
These pants are made from a Nylon-Lycra combination. It may contain special fabric in case of increasing sweat absorbing ability, durability, and odor prevention. 
Yoga pants are likely to have tighter and thicker fabric, leading to a stiff waistband. Its color is more opaque to limit exposing possibility.
Following its name, these pants are seen as a yoga exercising suit at first sight. As time passed, people used it everywhere, from jogging parks, in house living, to even office wear.
Yoga Pants Comfortable Style
Comfort is a crucial factor required on every occasion, from house activities to outdoor exercise. Choosing a suitable yoga pants style smooths against your skin and increases your movement range.
There's a list of pant types for your workout sessions:
High-waisted pants
Tightened and sleek fabric helps soothe against muscle and skin. Also, a high waist enables free movement, bending and posing the body in any direction easier.
The high waists are more suitable for lounging at home and practicing yoga. It provides convenient exercising because of the flexibility and stretchable waistband.
High waist pants with pockets: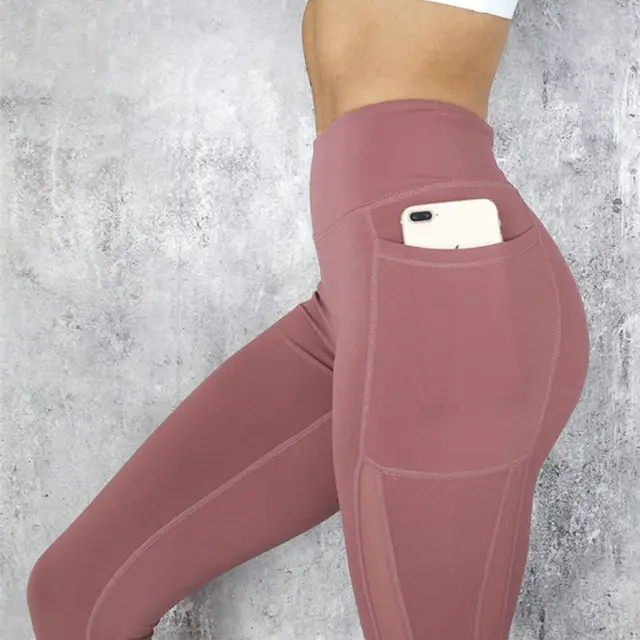 This one provides a wide range of moves with extraordinary stretch and elasticity like the high waist type, bringing convenience and flexibility in exercising or yoga posing.
Though, pockets are "functional pocketed pants" in terms of utilization. They are siding or back places with enough space to store crucial things. 
Keeping small and flat items such as your phone, wallet, and keys around the waistband is no problem.
Yoga Pants Vs Leggings: What's The Difference Between Yoga Pants And Leggings?
Many people are confused about these two types and wonder, "Are yoga pants and leggings the same thing?". Here, we will give you information to answer the question, "what's the difference between yoga pants and leggings?"
Material
Both pieces' material is roughly similar with thick, stretchy fabric and tighter waistband.
Due to everyday usage, leggings fabric is softer and has a shorter life than the other. Yet, leggings contain various decorative designs and multi-colors suitable for fashion wear. Meanwhile, yoga pants are plain, opaque versions that fit exercising.
The yoga pants' high-stretching and high-performance traits allow flexible movements. You can do jogging, hiking, cycling, etc., with this type without hesitation.
Common legging uses a smooth and thin form of knit fabric. This fabric feels friendly against the skin but cannot carry intense force.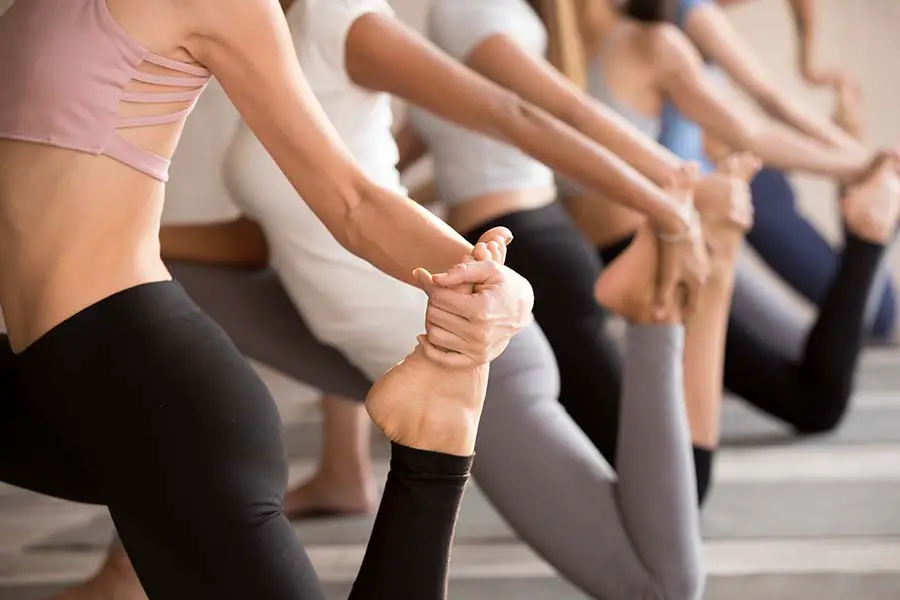 Comfort
Regular leggings often bring a more comfortable feeling than the other. This depends on various factors.
Yoga pants and leggings both feature weightless, soft, cotton knit fabric traits. So, in this case, these two don't have any differences in comfort criteria.
However, you usually see great thicker and stretchier fabric used in yoga pants. This holds up well as you pose any shape while its recovers to its original shape afterward. Yet, it is not as soft as other typical legging materials.
Purpose
These two have disparate usage purposes. Yoga pants are superb in performing yoga, while leggings are all-around wearing and may not be suitable for a yoga session.
Besides, each type of yoga pants is also suitable for different yoga styles. For example, you will not prefer hot yoga while wearing cotton yoga pants. Instead, you might need to wear a nylon or moisture-wicking polyester for that try.
Yoga pants often cost a lot more than typical leggings. In general, sportswear tends to have a higher price than casual wear due to the high-performance materials. There also depends on different brands.
Durability
In general, yoga pants have greater durability than normal leggings. Material quality is the game-changing factor in this case.
Cotton yoga pants don't have as life prolonged usage as those made out of high-performance sports fabrics. Moreover, some typical leggings like jeggings can have excellent durability, thanks to the tougher denim fabric nature.
Compared yoga pants with athletic fabric to leggings containing cotton knit, the previous one will last a lot longer. It has better elasticity during its lifespan, whereas the legging wears out quicker.
However, yoga pants are more satisfying for challenging activities, consolidation, and stiffness. Leggings should stay in the closet for good preservation to lengthen durability.
FAQS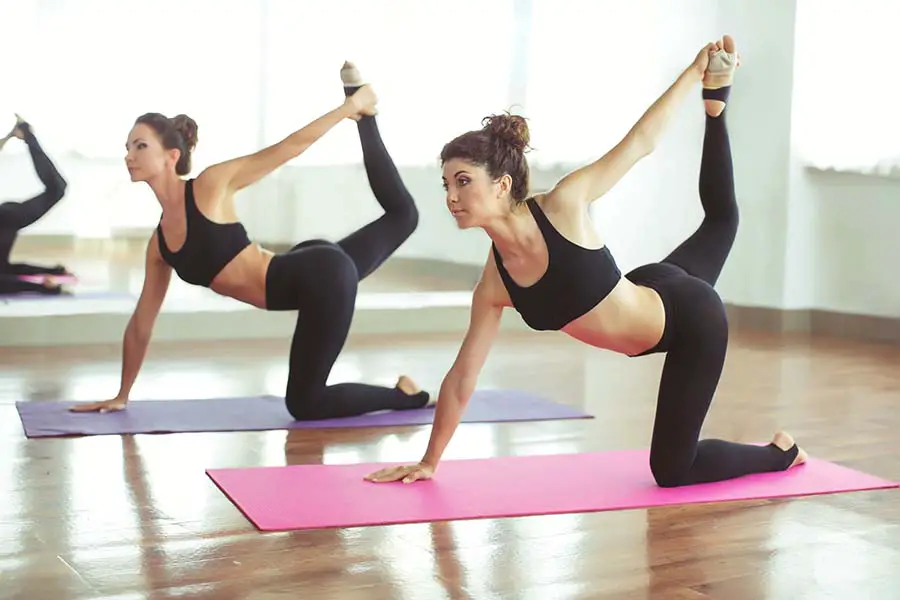 How To Choose Yoga Pants? 
Yoga pants are a great choice when taking yoga classes or working out inside or outside the house. But with numerous patterns styles before eyes, it's hard to make the right decision.
Fortunately, there are a few ways to help you limit the selection and get the most suitable pants.
First, you should decide whether your pattern is full-length or capris cut. Full length warms you in winter, while capris cut gets your leg breath in summer.
Then, choose a relaxed style that fits your purpose. If you plan to go with a fitness plan, picking skin-tight pants for flexibility or relaxed styles for hanging out with friends is fairly enough.
Stretch and fabric also strongly affect your choice. You should choose comfortable, small friction fabric and freely stretching to optimize your actions.
Other factors are designs and patterns. It would be best to consider those qualifications based on your preference to get a reasonable style.
How To Choose Leggings? 
Similar to the one above, leggings also come with many designs and patterns, or even more. That's why we must set some categories to make our choice apparent.
The first is finding the right styles. Compression legging is superb for working out with tight-fit, compressive fabric. It helps your circulation work better and ease soreness.
If you are taking a yoga class or only need casual wear, fitted legging is on your side. It has light compression and a flattering back waist that won't interrupt your pose.
At last, a loose fit is also worth considering with main leg moves such as jogging, hiking, cycling, etc. Straight and wide garments create vast space for your movements or posing.
View more: How To Wear Yoga Pants Or Leggings Without Underwear Lines?
Conclusion 
Finding suitable clothes for exercise activities is crucial to optimizing your performance. For those who cannot distinguish between leggings vs yoga pants, this article has provided you with a detailed answer to "what's the difference between leggings and yoga pants?"
Remember to pay attention to the material and length of these two to ensure they can provide the best comfort for your exercise.