Hot yoga is gradually becoming a trend and receiving a lot of attention from people of all ages. If you are a newbie, the first step to facilitate training is, choosing the right clothes to achieve the highest efficiency.
So, what to wear to hot yoga? No waiting longer! Scroll down and discover expertly compiled answers in no time!
What To Wear To Hot Yoga- For Women
As you all know, yogis are not limited by gender. However, the difference in body characteristics has caused each sex to have different requirements for clothing suitable for this type of exercise.
So specifically, what should I wear to hot yoga?
All answers have been compiled by us and waiting for you to discover. Scroll down for a closer look at this problem!
Pants And Leggings
Many girls think that choosing a smaller pair of shorts will be more convenient for yoga practice. However, this thought would get them in trouble.
Exercising for a long time will make your whole body sweat, leading to your feet becoming more slippery than ever. Practicing in this state will easily lose your balance, leading to not achieving the best effect of the sessions.
Our advice is to choose tight pants (long pants and leggings are products to consider). The tight fit plays an important role in wicking away perspiration, while the stretch fabric remains comfortable.
So, how to choose the right pants for hot yoga?
The first thing that makes the quality of yoga pants is the fabric. You should choose a fabric with good absorbency (such as cotton), dry, and light. If the pants have a tapered bottom, it will be a choice worthy of your preference.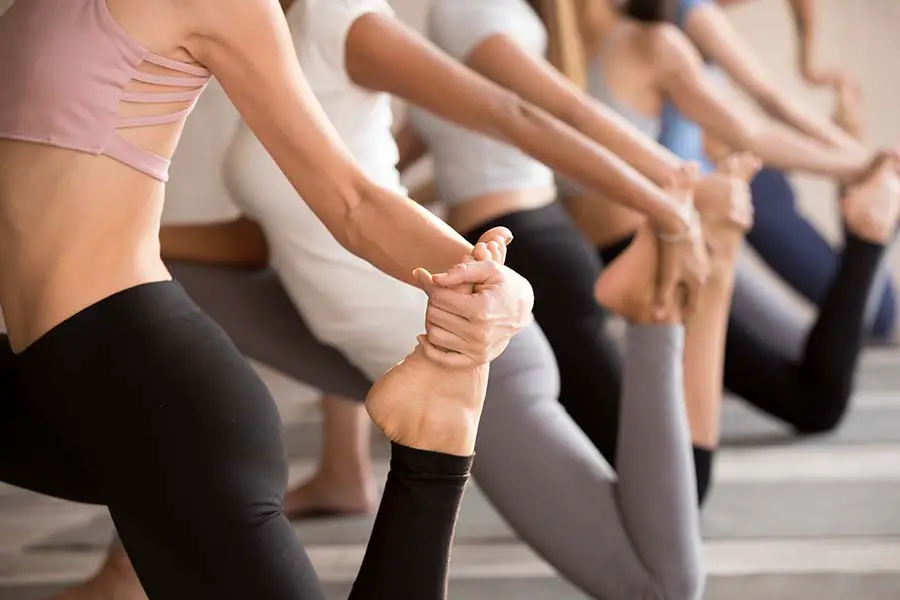 Avoid cheap pants with thin and easy-to-ruffle fabrics. Pants with poor quality fabric can only serve you a few times before becoming ugly and stretchy.
It would help if you chose pants with a lot of wrinkles – which means good elasticity. Thus, your legs can work freely without being constrained by anything.
You need to test the thickness and transparency of pants by wearing them on. Then do the leg flexion and self-assess whether it achieves the proper stretch.
Tops, Bras, And Shirts
The upper part of the body sweats a lot during the practice of hot yoga. Girls tend to reduce their tops, and sports bras become the most popular choice. Which can be the best candidate for "what to wear for hot yoga?"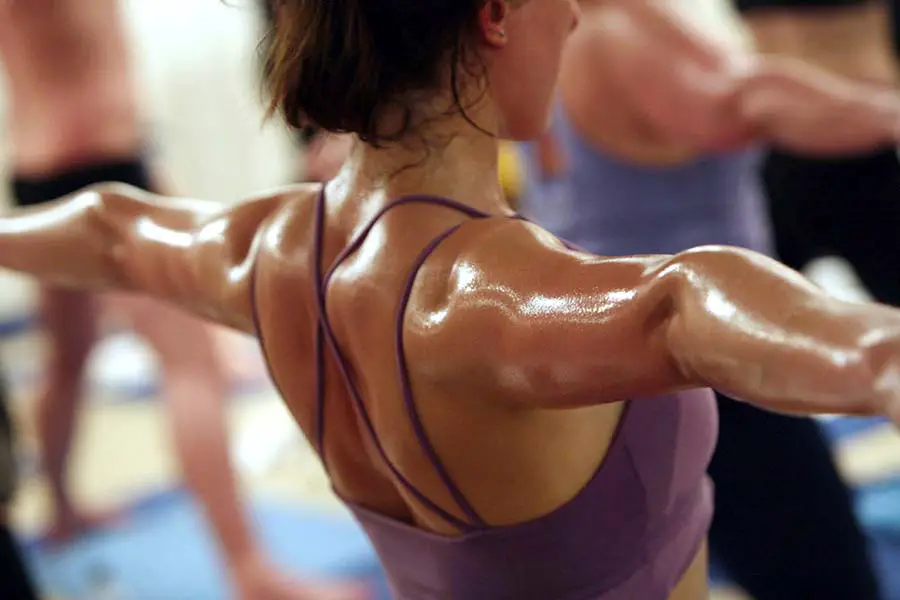 Sports bras should be stretchy and snug against your body. Avoid 100% cotton fabrics because sometimes, their superiority in absorbency will make them heavy with sweat. Instead, consider products with breathable, soft, and quick-drying fabrics.
If you want to use a t-shirt as an outfit for hot yoga, this is completely acceptable. However, pay attention to the shape of your shirt. An oversized t-shirt can get you into trouble in twists and turns.
We think any yogi will fall in love with an ideal hot yoga top – a tank top.
Tank-top with a characteristic design of no sleeves allows yogis to move their shoulders and arms freely. It often comes with a matching bra, which is more cost-effective than a sports bra and shirt combo.
See more: How Hot Is Hot Yoga Temperature? – Things You Need To Know
Mat And Props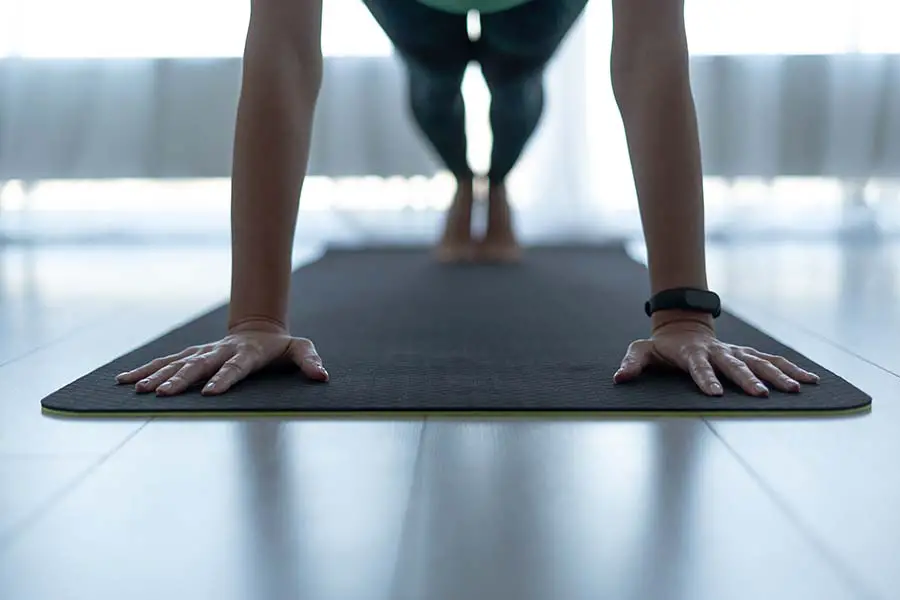 It will be remiss if you skip the yoga mat and props during your practice. But, how to choose products to be effective?
An ideal mat must meet the criteria of thickness, durability, and even its grip on smooth surfaces (whether wet or not). If you have an item like this, you will be able to comfortably do all of the poses without fear of slippery problems.
After each workout, use a wet (sanitized) towel to wipe down your mat. Then roll the mat so that the wet side is on the outside, making the drying process faster.
In terms of props, you should prefer thick and sweat-proof products. It will be easier for yogis to disinfect and preserve them for the next session.
Hairstyles
Girls with short hair won't have much of a problem no matter what pose they take. But if you have longer hair, you definitely can't let it go as you usually do, but instead, you need to treat it a bit.
Tidy up your hair with a braid, or tie it up. This way, you won't need to waste time and effort editing your hair.
Besides, using a headband or bandanna will also help you limit the sweat on your face while still helping to fix your bangs.
View more: What Size Yoga Ball Do I Need? How To Choose The Right Size
What To Wear To Hot Yoga Male?
Men seem to be much simpler than women in choosing appropriate yoga clothes. So, what do guys wear to hot yoga? What to wear to a hot yoga class?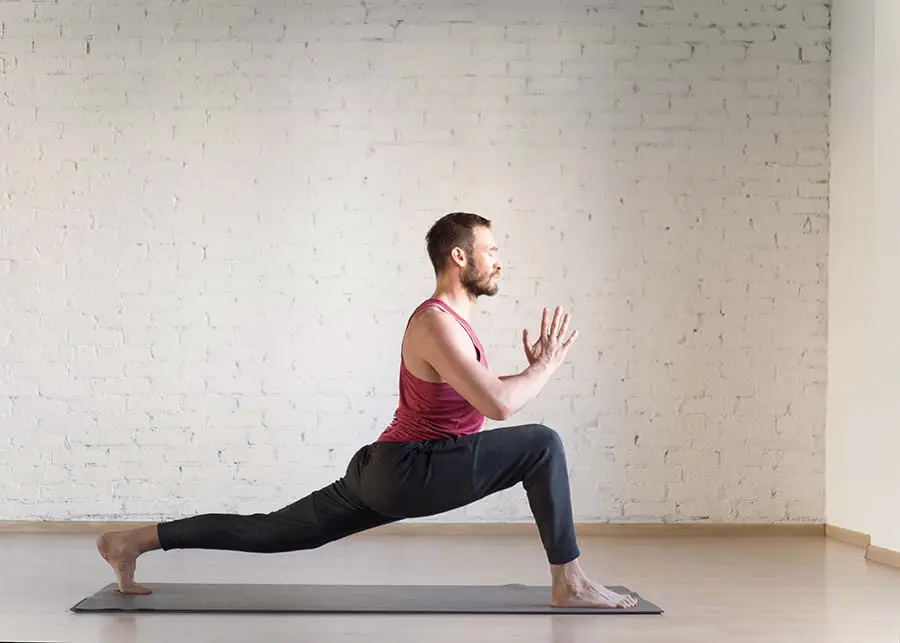 While some men choose to go topless for hot yoga, we think this will cause sweat to interfere with their performance. Therefore, the top advice is still to use a T-shirt with an airy fabric that fits well and has good absorbency.
What about pants?
Similar to women, men can also choose pants or shorts for practice. Tight products (like leggings) will always be your priority. But before making a purchase, always consider carefully whether the thickness, elasticity, and fabric of the product are ideal.
We want to give you a little advice if you want to choose running shorts, consider a compression garment inside. This way, you will be able to practice confidently and get the best results with hot yoga.
Most of the guys already have short hair, which is convenient for yoga practice. But keep in mind that boys sweat more easily and sweat more than women. To limit face sweat, using a headband is the best option.
Some Last Words
What to wear to hot yoga so that your body is as comfortable and cool as possible? Choosing clothes that fit you snugly is key. Besides, don't forget to double-check the quality of the fabric if you don't want to say goodbye to your outfit quickly.
Through this article, we hope that any problems related to hot yoga clothing have not caused you any more trouble. And now, let's start choosing the right products for you. Good luck!